SM's Neo Culture Technology is a brave and interesting venture and one that is bound to bring plenty of questions. I had a listen to The First Mini Album from Seoul based sub-unit of this mega-team, NCT #127 to find out what all the fuss is about. After all, this mini reached number two on the Billboard World Album Chart, an impressive feat for a rookie.
MUSIC
The mini kicks off with title track Fire Truck. It is a track that leads us to believe that #127 are probably going to be a little like marmite – they're certainly not going to be to everyone's taste.
Fire Truck employs plenty of electronic and hip hop 'rules' to create a track you're likely to either think is genius, or garbage. We're undecided about #127 as this track ends, so venture into the album hoping that the glimmers of impressive SM talents that Fire Truck hints at will shine through.
Interestingly, the Fire Truck mv was the centre of a rather quickly passing controversy as Netizens suggested it included themes of paedophilia. While we're certain this isn't at all the case, there's plenty of visuals that do allude to sex disguised neatly behind the innocent home, school, and workplace settings.
READ MORE: Kpop's Lolita Complex
From the upbeat, fast pace of Fire Truck it seems almost disjointed to drop into Once Again as the second track. This sounds like an SM ballad that could have easily have been sung by vocalists in EXO, Super Junior or SHINee. It is this familiar feeling that probably serves a strong purpose as the second track, as it seems to unwittingly have you longing for the style of Fire Truck once more.
Third track Wake Up is a strong contender for best track on this mini, even if a little reminiscent of EXO's Lightsaber. It kicks off with vibes of the rising stars of Korea's fusion between R&B and hip hop, but quickly drops in EDM sounds. There are definite undertones of the appeal SHINee or f(x) have, if their sound appeal were amped up another notch. EDM is a thriving genre in Korea, though outside of the mainstream Kpop market. It is through SM's continued work with skilled electronica musicians that f(x) and SHINee have been able to develop such an accepted experimental style – and it seems it is something that will work well for NCT #127.
Another World continues in this vein, before Paradise returns to the SM ballad safety box. Except this time there are more signifiers that this is an NCT #127 track, and not something you'd just as easily hear SJ:KRY belt out.
Mad City shows off the rap style of NCT #127, there are definite undertones of the styles possessed by artists such as Rap Monster and Zico, teamed with the more unique use of electronic dance sounds that have developed through the mini album. Though, despite a noticeable shout out to such prominent idol rappers we're not sure any of the NCT members will pose a real threat to their crowns.
If Switch (ft. SR15B) played as you shuffled through your music library you could be forgiven for thinking this was SHINee at first. This track feels like Bieber's Sorry with the oomph (technical term) turned down. It combines both ballad, and dance music styles experimented with in the album and seems like a fitting way to end the mini. Switch leaves you feeling as if you've listened to NCT #127 learn and develop in just twenty-three minutes.
ALBUM ART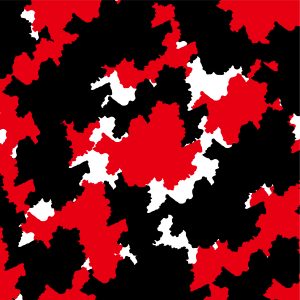 The physical album comes wrapped with a additional cover sat atop it, this one featuring the photo of NCT #127 used in our banner image [above]. Though the actual front, and digital, cover for the album is the unusual camouflage featured left. At first appearing rather random it is interesting to note that the shape used to create the cover is actually the shape of Seoul. Considering NCT is set to release sub-units across Asia and Latin America it certainly has you wondering if this is a theme that will be used across the board for all NCT city units. It may be simplistic, and questionably unattractive, but there is apparent thought behind it.
This unboxing video by panda98hk on YouTube gives you a full look at the album art, with the inside contents offering some great photography. Though some of the simplistic design, particularly on the lyrics pages leaves a lot to be desired.
OVERALL
The premise of NCT has us wanting SM to bring something new to the table, impress us with some secret formula they've been perfecting over the years – but we're not sure we're hearing it. Though one has to consider, maybe NCT #127 sounds a little derivative because SM already found their 'perfect' sound – after all, it works for all their other acts.
I'm not going to be rushing to grab ourselves a copy of this mini album, but I'm certainly not going to dismiss NCT #127 either, they're one to watch out for!
Founder of BritROK.
Graphic Designer and lover of all things Punk and Indie!
Latest posts by ConceptLore (see all)